Happy  Valentine's Day! 
Its been about three weeks since I went on my Technorati search for folks who are helping to spread Net2 by posting logos and badges on their web sites and blogs.  Here are some more I found today:
Between Lawyers: Technology + Culture + Law
http://betweenlawyers.corante.com/archives/2006/01/27/communication_law_and_web_20_interview.php 
Brian Benzinger writes Solution Watch, a popular blog reviewing new Web 2.0 products and services. Though he is a programmer himself, his reviews are selective, thorough and he prioritizes being accesible to less technical readers. His high quality and prolific blogging got him into the Web2.0 Working Group, a network of some of the best bloggers covering emerging web tools and the industry around them.
Over in Net2Ask, "smokinggoat" asks,
Where are the  tech-side volunteers? . . .Where do I go to find hands-on help for the more complex Web 2.0 technologies?  And more specifically, where are the tech volunteers?
John Brandt Executive Director of Maine ASCD offers this advice,
The obvious answer to your question (Where do you find...?) is - you need to find a "digital native." As you may know, "digital natives" (according to Marc Prensky) are those who were born into this new digital world. Simply put, NPOs need to enlist the services of young people in their mission. And that is a whole other conversation...
Looks like some folks from the United Way of Southeastern Michigan have added their photos to NetSquared's "I Want Change" Fickr group.  Check 'em out.
We're sorry to announce that we're changing the date and location of the NetSquared Conference, but we're happy to tell you that it was for good reasons and that this is really the last change.
The NetSquared Conference will be held on May 30/31, 2006 at Cisco Systems' Vineyard Conference Center, 260 E. Tasman Drive, San Jose, CA.
We decided to give up our May 8/9 Nikko Hotel reservation in order to avoid conflicts with several other conferences: the Global Knowledge Partnership Meeting, the Council on Foundations Conference, and the Microsoft Research Social Computing Symposium; and to accept Cisco Systems' sponsorship and hosting of the NetSquared Conference in their superb facility in Silicon Valley. We're happy to have one of our major product philanthropy partners show their commitment to the conversation of innovation.
This striking photo by was taken by blogher Camera_Rwanda who is using her blog and flickr account to help generate awareness and raise money for the Gisimba Grace Scholarship.  The money helps send the orphans of rwanda from the Gisimba Memorial Center in Kigali, Rwanda to college.
More about the orphanage from the web site:
Nancy White at Northern Voice Conference gave an amazing presentation/interactive lecture on the important assets of online interaction.  The title was "Nancy White and the Seven Competencies of Online Interaction."   I wasn't there, but Alan Levine captured it on a mp3 file and  Bev Traynor took some notes.   All we need are the PowerPoint slides to complete our virtual experience.   I think she is wearing her purple pajamas, but not sure ...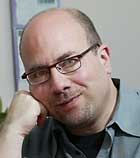 Craig Newmark is the founder of Craig's List (spelled craigslist), a site that provides free classified ads for people in more than 200 cities around the world. Started in 1995, it is now one of the most visited sites on the internet.
Craigslist includes notices for public events and only charges a fee for job and real estate listings in some large cities. The organization and Craig in particular are notable for both their groundbreaking work in making Web 2.0 usable for everyday purposes and their support of non profit organizations.
Pages
NetSquared © 2021 • TechSoup Global • All Rights Reserved