NetSquared Spotlights are a series of interviews focused on the work of our amazing NetSquared Local Organizers around the world. Our local organizers are volunteers dedicated to helping create local opportunities for learning, sharing and using technology to make a difference. Each spotlight we will ask questions that profile our Net2 organizers' approach to community organizing so that others can learn from their experience. 
For this NetSquared Spotlight we are featuring Brian Deyo, who is Co-organizer of the Swaziland Computer Society Net2 Local group. 
You can find Brian online at: www.briandeyo.us, and follow him on twitter at @briandeyo99. And, make sure to check out Swaziland Computer Society projects at swazitech.org and follow them on twitter at @Swazitech.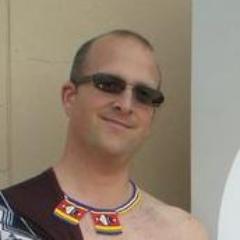 Tell us who you are in less than 140 characters.
I'm an IT professional and advocate who believes technology and the Internet are the best tools to solve the challenges of our modern world.
Why did you become a NetSquared Local organizer? 
I had been helping to organize the Swaziland Computer Society for two years before we connected with NetSquared. We joined with NetSquared to connect with other groups similar to our own. We wanted to put Swaziland on the map of places that technology was influencing. Since joining the fresh ideas from NetSquared and the other organizers have continued to inspire us to hold events and push forward.
Do you have co-organizers? What are their roles? How did you find them?
We do! The group was started with my co-founder Sikhumbuzo Mkhabela (also a NetSquared Organizer). We held our first meeting in the rented room of a public library. There were three new people that attended this meeting, and it was clear that they also knew a group like ours was an essential component to developing ICT in Swaziland. Sikhumbuzo, Johnson Walker Dlamini, Penwell Dlamini (also a NetSquared organizer), Tim Sandoe, and myself have been the organizers ever since.
What's your local social-web-tech scene like in Swaziland?
The cost of Internet access is exceptionally prohibitive for many people to access the web. Most people's first exposure to the Internet is through a mobile phone, and it's likely Facebook. As more and more people are coming on line through phones, mobile development is just starting to take off. Internet access is going to be primarily through mobile interfaces as the rest of the country comes on line. I feel that it's a great time to be a developer here. The environment seems similar to the tech booms of the last two decades. Many people are just finding the Internet and computing for the first time, and there's a lot of older tech around like feature-phones and old Pentium 1s. It's a very strange mix with modern tech however, as people are starting to gear up with some slightly older iPhones and Galaxys.
What do your local participants really want to know? What are the most popular topics?
Linux is huge! There are so many issues here related to proprietary software, that Linux-based OS adoption is gaining serious popularity. The USB flash-drive population of the country has been hard-hit by viruses, and no one can afford the Internet access to run up-to-date A/V software. The cost of licensing proprietary software also drives many people to illegal versions. This has really prompted our group to promote the ethics of free and open source software such as Linux as the best fit for computers.
What's the hardest part of the job?
It's very challenging working within a financially resource-poor environment. There's not a lot of money locally available to run events and get people to connect in person, as many people lack the funds to even pay public transport to get to a meeting. This lack of funding really prevents growing our community-outreach programs and creating a more sustainable movement in-country.
Tell us about the best NetSquared Local event. What did you learn from that experience?
We held two "Social Media For September" events because people really wanted to be involved but couldn't make the first date. Both dates were constrained by our venue, and had to be on a weekday. A number of our members couldn't make either date because they were working. As a way around this a few of our members were able to chat via Facebook while the meeting was happening. This sounds great, but it needed a dedicated scribe to capture all the great conversation happening in person & typing it into Facebook.
What's the coolest thing that's happened at one of your events?
We were able to connect the University of Swaziland with a Nokia trainer to provide a free 3-day training to faculty, students, and 4 of our members. At the end of the training these members each had a functional mobile-app developed for Nokia feature phones.
How do you measure the success of your events? 
I know our meetings are a success whenever a new face appears. We meet primarily online to reduce costs associated with travel. When someone has paid money out of their pocket to come and talk tech and share ideas, it's a success.
How do you envision your NetSquared Local events evolving over time? 
The group is trying to organize as an official association in our country to promote the inclusion and expansion of ICT in the development of the country. ICT is going to affect everything in the country of Swaziland within the next decade, and we want to be the people pushing to make that happen.
How do you spend your time when you're not organizing NetSquared Local events?
I served in Swaziland from 2010-2013 as a United States Peace Corps Volunteer. I've been involved in dozens of projects, all aimed at assisting the people of Swaziland in meeting the challenges they live with and developing solutions to them. There are so many challenges facing the development of this country that can be affected or revolutionized through the proper application of IT. I wish I could work full time with the Swaziland Computer Society and help them use IT to develop their future.
What's your change-the-world philosophy?
No one person or group is to blame for any of the problems facing our world, and complaining about them doesn't help anyone. Spreading awareness about issues or problems is really only the first step. The time is NOW to do something about it. We shouldn't be satisfied with tomorrow being merely the same as today. We must actively, passionately, and creatively work for a better tomorrow.
---
Thanks to Brian for letting us interview him for this NetSquared Spotlight! Stay tuned for future posts in the NetSquared Spotlight series.