NetSquared Spotlights are a series of interviews focused on the work of our amazing NetSquared Local Organizers around the world. Our local organizers are volunteers dedicated to helping create local opportunities for learning, sharing and using technology to make a difference. Each spotlight we will ask questions that profile our Net2 organizers' approach to community organizing so that others can learn from their experience. 
For this NetSquared Spotlight we are featuring Birgit Pauli-Haack. She is one of the Net2 Local Organizers of the Naples, FL Net2 group (@NFN4Good). 
You can find Birgit online at: https://plus.google.com/+BirgitPauli-Haack and follow her on twitter at @bph.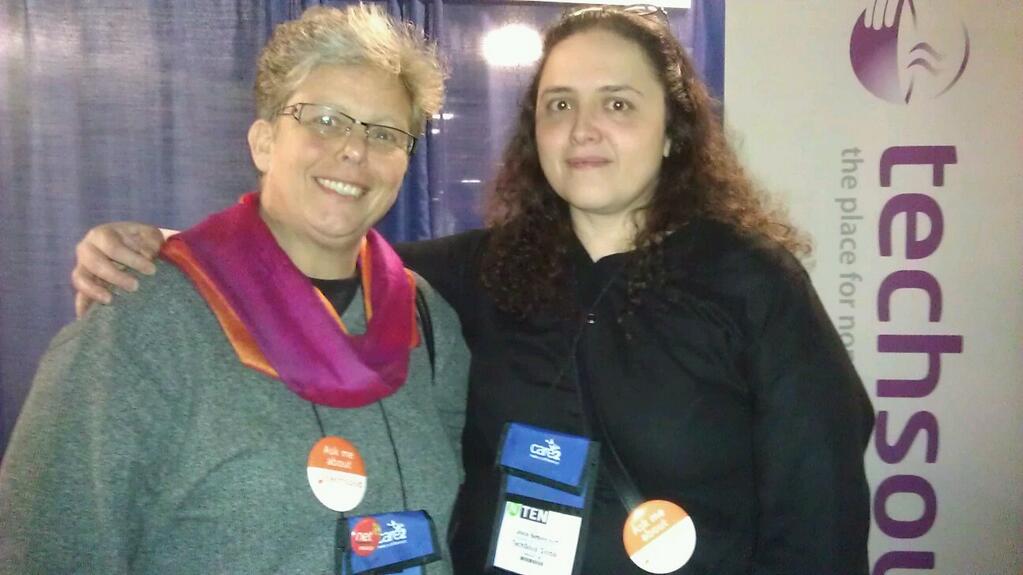 Tell us who you are in less than 140 characters.
Web developer & online strategist, educator on all things Internet, mobile photographer, painter, tennis player, German, married, no kids.
Why did you become a NetSquared Local organizer? (What inspired you to organize local NetSquared events in your community?)
I have been involved in online communities for a long time and upon our move to Naples, Florida, the local community network Naples Free-Net became our new technology home. Through volunteering there as well as starting my own consulting business, I have worked with dozens of nonprofits.
Creating a local technology group was the next step for me: a place where people learn together, explore together and collaborate on community issues.
I tried to set-up a local group in 2008 and no one showed up. At the NCTech4Good conference in 2010, Nancy Shoemaker, an AAUW advocate and techie introduced me to  Judy Hallman. I was facinated by Judy's vision of transforming RPT.net, also a  free-net to a nonprofit technology support organization. At that time, I was the president of the Naples Free-Net and was starting to revitalize the nonprofit program.
We started migrating nonprofits to WordPress sites in July 2010 and after three years have 40+ members. In those three years I've discovered a lot of questions for which we don't have the answer and a lot of organizations asking even more questions. I spent a few more days with Judy Hallman in October 2012 during which we talked about the challenges and opportunities for nonprofit networks.  The final push to NetSquared came through this year's NTC conference in Minneapolis. I met Elijah van der Giessen (Netsquared), Megan Keane (NTEN) and the other community managers of 501TechClubs and NetSquared groups. The energy was addictive. Everyone very patiently answered my questions and helped me visualize how my vision could merge with theirs and how to actually make it all work this time around.
When I returned from Minneapolis I talked it over with my friend James McDonald, who has experience in community group organizing.  
It's been a while in the making and I am glad we created something which benefits the whole community. The support and feedback has been phenomenal with monthly meetings topping over 40 attendees some months. It's been a while since I felt so energized by an initiative and so sure about what to do and how to accomplish it.  
Do you have co-organizers? What are their roles? How did you find them?
James McDonald is co-organizer of the 501TechClub SWFL. He is also the education chair of the Naples Free-Net and is dedicated to taking technology education to the next level for residents and professionals in Collier County and Southwest Florida. We research topics, plan the meetings together and co-present each month's meeting. I have been blessed by the fact that  James actually found me.  It's an entire team making this happen and attendees also chip in preparing the cafeteria for food and refreshments, setting up seating at the venue, testing equipment, organizing the material table. We are lucky because ours is a very social group and some of us have known each other for quite a long time.  
What's your local social-web-tech scene like in Naples?
The social web tech scene is still in its infancy in Southwest Florida, generally, but there are exceptions. Most organizations are finally starting to use the social webs, mainly Facebook and mainly as a vehicle for broadcast rather than two-way or community engagements. Many executives remain in a 20th Century mentality of marketing to the masses. The concept of real life, online networking has yet to take hold - for the most part - in the local business and nonprofit sectors. Most of the reluctance to move to the next level seems to be rooted in generational characteristics as the population in Southwest Florida as being mostly Boomers and Matures, to use the terms from the 2010 study "The Next Generation of American Giving".
The good news is we may be seeing some change and advancement toward 21st Century communications skills, starting with the organizations that cater to child services and early childhood development advocacy directed to young parents and educators.
What do your local participants really want to know? What are the most popular topics?
One of the most often asked questions is, "how do I get people to share my posts or like my page, retweet my tweets?" Although these are specific goals, it seems to be hard for some people to actually use the tools of social networks to form relationships, meet new people and engage in a conversation. It's almost as if they are afraid to engage and shy online; perhaps fearful of giving away too much of themselves online. As a result they tend to sound and act online like a 501(c)(3) official or a robot, instead of a real life human being.
It's not only about the quality of the story telling. Most nonprofit volunteers and leaders know how to tell the story on 20th Century channels and use the tools brilliantly. As soon as they try to make it work with the 21st Century tools, they forget a lot of their humanity, their social skills. Now that it takes a computer to use the platforms, some people think it's a technology issue; it's something magical at best or something robotic at the worst.  Which, of course, many of us know is not true.
The 501TEchclub SWFL / Netsquared is also learning by doing. The Meetup platform seems to be, for quite a few members, one of the first online community they join and meet people they actually also know in real life. People learn from each other by commenting, asking questions, filling out a profile and dealing with notifications.
What's the hardest part of the job?
Getting the logistics right for a good atmosphere and keeping the momentum going. We are getting better at it. But we need to expand our list of presenters, additional knowledge partners with whom to collaborate. We have great momentum after our first five meetings. We hope we can keep up the pace and also reach more organizations. In Southwest Florida, most nonprofits have only a small window (the winter season)to host events and raise money within the community. After a strong summer we need to see how this club works during winter season when almost every nonprofit staff and volunteer has to focus on the primary needs for the organization.
Tell us about the best NetSquared Local event. What did you learn from that experience?
No doubt the best meeting was the October meeting when we had a special guest, Homer Gaines, talking about Google Glass and demonstrating the next generation of personal mobile device. What we learned was, "technology is cool!" Something really amazing will bring people to come to our event. The attendance instantly doubled. It also taught us that discussion in a larger group needs to be more structured. For a larger group we need a microphone and  more food:-)
What's the coolest thing that's happened at one of your events?
People using the Google+ Party Mode to post photos to the Google+ Events.
How do you measure the success of your events?
Success has many facets: lots of questions during Q & A, plenty of answers. When I ask the audience what topics they like to have in future events, I tend to get more than a few multi-sentenced, unsolicited comments on the Meetup page and traffic to the follow-up post.
How do you envision your NetSquared Local events evolving over time?
We hope to invite more expert speakers to the area. We might consider for next year more events in different locations. The travel times to Naples from Immokalee or  Ft. Myers are long enough to be difficult for an evening meeting. We have a few die-hards driving  more than 1 hour to the event one way. We should be able to reach more organizations when we rotate locations.
How do you spend your time when you're not organizing NetSquared Local events?
My day job is working with clients for my two companies, Pauli Systems, and Relevanza, Inc. I write code for open-source projects. Once in a while I have trouble sleeping and use the time to create proof of concept codes for upcoming projects. And of course, I read a lot of blogs about technology, business, and nonprofits. In what time is left I work out a lot, at least 6 times a week, with running and playing tennis, swimming.  My husband and I go to the movies a lot. I would love to get back to my oil painting, but I still need to lose a few pounds to get back to it. At least, that's the deal I made with myself. :-)
What's your change-the-world philosophy?
"Changing the world is like eating an elephant."

"How do you eat an elephant?"

"One byte at a time."
---
Thanks to Birgit for letting us interview her for this NetSquared Spotlight! Stay tuned for future posts in the NetSqiared Spotlight series.