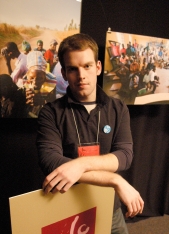 The realms of the nonprofit tech space and the social entrepreneurship sphere share a lot of overlap. I've had a number of conversations, though, with those who identify more with the former realm sort of at a loss when it comes to navigating the latter. "I've created this awesome widget or application or I have this great idea, but I'm not quite sure how to move forward with it," is a common concern that I hear voiced quite often.  
Nathaniel Whittemore, Change.org Social Entrepreneurship blogger and a long-term dear friend of mine, has had his head in both of these spaces for quite some time. As his Change.org bio describes him:
Nathaniel is the founding Director of the Center for Global Engagement at Northwestern University, which works annually with hundreds of students in dozens of countries around the world through curricular programs and student project incubation.

He is also the Founding Principle for Do Good Well, Inc, a consultancy focused on fusing business and philanthropy to advance social change. Most recently Nathaniel co-founded AssetMap.org, a web-based startup to help individuals and organizations better harness their assets for collaborative social change, and (a N2Y3 featured project!)
I was happy to discuss with Nathaniel this overlap, how those in the nonprofit tech field might go about strenghtening their social entrepreneurship skills and knowledge-base, and, of course, Andrew W.K.  
The nonprofit tech space overlaps pretty seamlessly with the SE space, so I'm curious about some of the social entrepreneurship / nonprofit tech folks that are rocking your socks that you're seeing through your blogging and research for Change.org.

I think there's definitely an overlap, right? In the sense that the tech space (nonprofit or otherwise) is so inherently entrepreneurial that it would be hard to keep them separate. I think that the main points of overlap, though, are about resource discovery and harnessing. Social entrepreneurs tend to specialize in getting more value from the communities of people that care about them to get some big audacious idea off the ground and the changing nature of webtools is pretty dramatically shifting how people do that. In terms of people really pushing it, I guess what's most interesting to me is the emerging group of people who are connecting online and offline. Not to beat a dead-horse (for anyone who has read my blog) but my entrepreneurial crush right now is definitely Jon Gosier's Appfrica project, which you wrote about last week.
I am curious about what makes this overlap between nonprofit tech and social entrepreneurship successful. I think a lot of folks in the former realm call themselves social entrepreneurs by default, but in truth - and I learn this via conversations with folks at conferences who inhabit both sectors - there is often an interest in seeing out better social entrepreneurship skills - or entrepreneurship skills in general. For those in the former realm who want to more-constructively inhabit the latter, what resources do you suggest they check out?
Well, I think we're all sort of still at this place because these two fields are so young where people have a reflexive understanding of the value of associating themselves with the buzzwords, but not a great understanding of how different type of actors combine to create success. I do think there is a place for getting more entrepreneurial skills. There are obviously formal structures like business school, but that's a huge financial commitment. To some extent, digging into the pure business book section is the best starting point. It's pretty easy to pretty quickly separate the good stuff from the dumb stuff and it can be a huge boost.
Digging a little deeper, let's say I'm a teenager and I'm an aspiring social entrepreneur and I've got an interest in the nonprofit tech field. Do you have any suggestions - based on what you've been through and seen - about how I might proceed?
Well...
Blog like a mofo. Learn how to establish your voice and figure out what drives you. Blogging will give anyone a chance to learn about all the social media promotion stuff.
If you love it, learn to code, and learn open source web frameworks rather than the crap they're going to teach you at a CS degree
Get into the real world. There is nothing more annoying to people working for social change than a consultant class that knows how to use a tool but has no context for the communities they're trying to share it with.
There's nothing wrong you can do if you're doing something. Everything changes, every year, every day, all the time, so just be passionately committed and help other people with the stuff they care about and it will fall into place.
And listening to Andrew W.K.? You recently wrote a post about what social entrepreneurs might be able to get out of some of A.W.K.'s ethos. Can you touch on that a bit? What does he represent to you, and what can people get out of paying some attention to him?

Pure joy. The greatest thing I struggle with is the ability to disaggregate the intense and unyielding pressure of tasks, responsibilities and particularly commitments to people from the incredible excitement of the enterprise on the other. It's easy to get lost in anxiety and miss the incredible gift that is creating meaning and creating a life. I think that everything about his presence is a celebration of remembering that joy and that gift.
Is there anyone in the field aside from A.W.K that just looks like they're having a great time with it, appreciating the journey, as it were, as much as they're focused on the destination? Of course, you mentioned J. Gosier, who's doing awesome things. His story is really fascinating.

I think there are lots of people. Kevin Jones of Good Capital and The Hub is constantly amped about how this field is growing. Xavier Helgesen from Better World Books and Premal Shah from Kiva are both constant sources of radiant inspiration and excitement all at once. It's easier for me to visualize guys in answer to that question, probably because I'm looking for myself in them or vice versa, I guess.