Post by Mary Schellentrager and Joe Solomon, Energy Action Coalition
Over at Energy Action Coalition, we've had tremendous fun with bringing together "Storyteller Teams" at big events. What's a storyteller team, you ask? It's a grassroots team of people who are dedicated to using the power of social media to share and promote movement stories from a conference or event. We've had kick-ass Storyteller Teams at Power Shift '13 and the San Francisco Divestment Convergence, and together, these teams have reached and inspired hundreds of thousands of people.
Storyteller Teams don't just happen on their own - they require some planning and recruiting and training and good old cat herding. Below are 9 tips (or rather, lessons we've learned) for recruiting and unleashing completely all-star storyteller teams.
TIP 1: Get out the word way in advance
One thing we've done is get out the word that we were having storyteller teams 3-4 weeks in advance of the event itself. We didn't just pump up the word: we pointed people to a sign-up form where people could sign up and say that they are interested in joining the team. You can check out a sign-up form we used here.  The basic gist is that we tried to get peoples' contact info and tried to gauge people's new media interests and commitments.
The key thing we also did was invite people, through the sign-up form, to come to a special 2-3 hour "Storyteller and Social Media Training Workshop" the first day of the event (see Tip #3).
In the future, we're interested in giving folks comp or discounted tickets for joining the storytelling team too.
TIP 2: Prioritize photographers
For both Power Shift and the Divestment Convergence, we made sure we had a photo plan in place way before the events themselves. Photos lie at the core of much of social media & documentation, especially for meme-slinging, so we prioritized finding volunteer photographers. Movement photos also depreciate over time - you not only want to ensure great photos, you want to make sure they golive quick.
We also up a flickr account, and made sure our photographers had access to it. As much as possible, you want to pool all of your event's photos into the same place: for archival purposes, to streamline social media, and to direct the press.  We also worked with photographers to set up a shoot plan - creating a schedule and priority shot list to ensure that images from both breakout/workshop spaces and big group plenaries are captured.
It might be worth hiring a professional photographer to complement your volunteer crew - since this role takes the person out of the space more than other storyteller roles, and you really need a reliable, accountable photographer to make sure certain moments are covered (volunteers can take amazing shots - but may not be able to cover everything). For both events we were fortunate to be able to bring in photographers from Project Survival Media, as well as have some super talented volunteers.  
TIP 3: Kick-Off with a Training Extravaganza.
Ok, this is the secret sauce ingredient to kick off an amazing storytellers team. On the first day of your event, host a kick ass special social media training. The key is to register about 20-30 participants in advance using the Storytellers Team sign-up form.
We've been lucky to be able to bring in the best trainers to train folks in roughly three areas: movement storytelling, breaking through on social media, and meme slinging. We'll usually have 3 separate 45-minute workshops for each of these topics. We realize this workshop template is kind of long and a bit of a hurdle but it helps us do justice to the topics, equip folks for success, and helps us discover people who are committed to what will honestly require a bit of work throughout the weekend.
At the end of the training, we'll get out some butcher block paper and write out social media needs for the weekend (i.e. photography, blogs, storifies, memes, tweets, instas, etc) and ask folks to raise their hand for what areas they're interested in contributing to.
Hot Tip: See if you can book the Center for Story Based Strategy for the 'movement storytelling' part of your training curriculum - they're hot stuff!
Tip 4: Invite Everyone to Join the Conversation
During the first plenary or big group space, let the whole event know about the Storytellers Team. You want the whole group to know that your team will be blowing up stories from the event. It's a chance for you to highlight the importance of grassroots media and encourage the entire event to join the conversation online.  This is a great opportunity for a student or young person on the team to speak on the big stage.
Promote your event hashtag, twitter handle, insta, facebook, etc. (consider including this information in the printed program as well). It can also be a chance for some last-minute team recruitment.  Logistically, you also want to prepare participants and trainers that storytellers, especially photographers, will be in the space and sometimes in and out of workshops.
Tip 5: Get Official by Making a Storytellers Badge
Build some team pride by making everyone a special storytellers badge to wear during the event.  It could be a variation of the participant badge or extra flair that hangs from a nametag.  During Power Shift, Storytellers made 'meme badges' in advance featuring their twitter, facebook, and instagram and shared them online.  That way participants were prepared the follow the story the moment they stepped on-site.
Tip 6: Highlight Personal Stories
Everyone coming to your event has a unique vision and story to share.  A conference is as much getting to know other people as it is about the official programming.  Interview participants and ask them to share why they're part of the movement, what motivated them to come to the conference, and what inspires them to do this work.  Get photos of them and create memes with the best quotes.
Tip 7: Set Up a Storytellers Room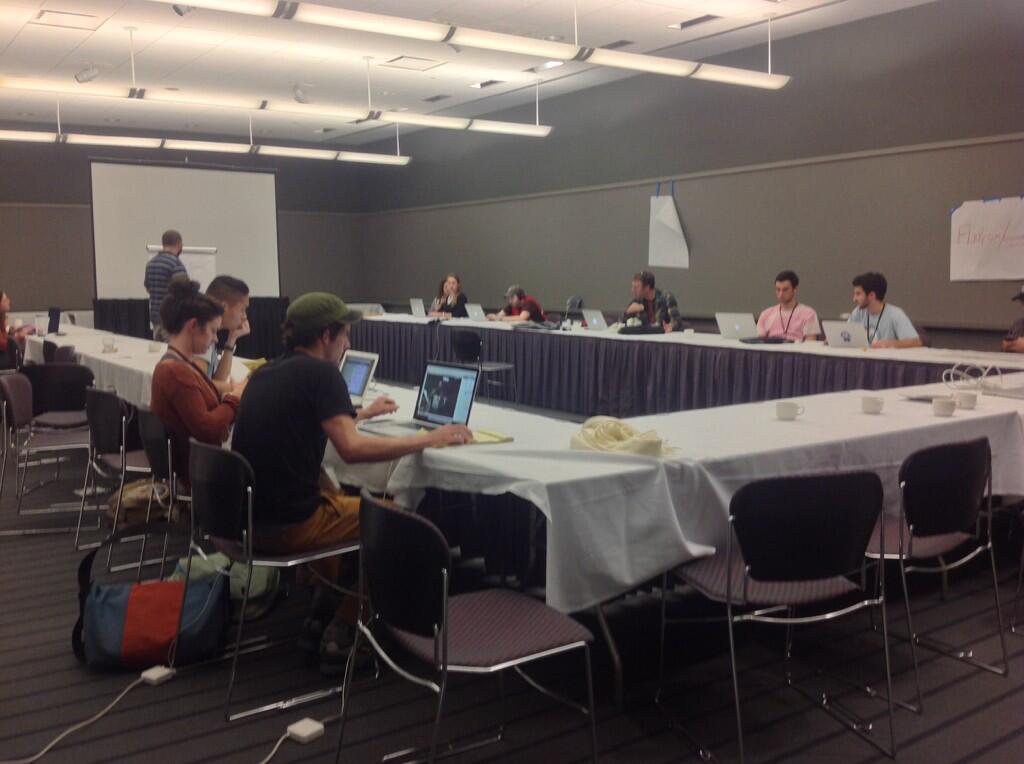 Building a cohesive team necessitates a cohesive space.  Set up a special storytellers room, ideally as close to the main conference action as possible.  Have cookies and snacks, water, wifi, outlets, spare computers, and external hard drives for backup.  Designate regular times to meet up as a team while keeping the room open for folks to work on their own time.  Regular morning briefings offer a space to run through what's important to cover that day - or you can cover this at night before the next day if morning meet-ups are harder to coordinate.  For example, the team can gather after keynotes to divvy up memes (which is what we did at Power Shift).  Remember to continually celebrate the work that folks on the team have done by highlighting the most shared meme or retweeted tweet from the day before.
Hot tip: be prepared to offer low-hanging-fruit activities to people who poke their head into your Storytellers Room, but don't have much time to give. At PowerShift, we took a risk by handing off the Power Shift Instagram keys to a number of folks like this. And it paid off splendidly: our insta was on fire!  
Tip 8: Shout Out Your Crew
During the closing out of the conference, thank everyone by bringing your storytellers onstage.  The extra recognition for the work they've done over the course of the event will make everyone leave excited to bring their new social media skills back to their campuses or communities.  Remember keynotes and plenary speakers are great "gratitude ambassadors" too!  Invite them into the storytellers room for intimate thank yous and for them to approve any photographs or memes of themselves before the materials go live.  And don't forget to take a group photo of the team!
Tip 9: Remember to Rock a Recap & Follow Up
Although your event may be over, don't let that stop the communication or coverage!  Do a social media recap piece (Yong Jung Cho of 350.org did a stellar Storify re-cap for the SF Divestment Convergence - we did a BuzzFeed wrap-up for Power Shift) so everyone can see your group's awesome work.  Be sure to share it with all the conference participants.  A best practice is to send written thank you cards to your team - nothing says thank you in an era of digital ephemera like ink and time spent writing a personal note.  
A few weeks later, you can follow up with team members to see if they're using their honed social media skills in support of their own campaigns to continue to workshop their challenges and celebrate their victories.
Now you're ready to convene your own Storytellers Team!
"Storyteller Teams" may seem like a new thing, but it's really more about coordinating and bolstering the kind of on-the-fly social media coverage that tends to happen at big events anyway. It's about getting strategic, purposeful, and unleashing the talent in the room to reach and inspire the most people. The key thing is asking for help, is just saying you're assembling a team and raising a banner for recruitment - those who feel a shared passion will start to get in touch!
We'd love to learn how you plan to use a team approach to rock out social media powered storytelling at your next big event or action.  Let us know your ideas/tips/feedback in the comments!